ASPS Site Protection
The ArtistScope Site Protection System (ASPS) is a two-part solution that provides the most secure web-viewing environment possible. Nothing is left unprotected to copy or exploit with the ASPS filter running server side to deliver encrypted content to the ArtistScope Web Browser on the user's computer.

The ArtistScope Web Browser is a secure browser used to view ASPS protected content. Visitors to sites using ASPS will automatically switch back and forth between their browser of choice and ArtistScope Browser depending on whether they are viewing ASPS content or normal web pages.

ASPS has been revised to provide more economical services that everyone can use. Previously a dedicated or virtual server was required to install the ASPS filter to deliver protected pages to the ArtistScope Browser, and while requirement still applies for installing and using the ASPS filter on your website, new services are now available to allow you to use ASPS and still use your old website on a shared hosting service.
Accessing a Moodle site using the ArtistScope Web Browser can be performed in different ways depending on the scenario.
From the ASPS browser start page using site search.
From an ArtistScope Browser custom start page distributed by the site.
By using a Launch Button on a normal page from normal web browsers.
By using an ASPS Login Button from your favourite CMS (like Drupal, Moodle, etc)


ASPS Protected Hosting enables you to display your web content via our server so that it can be viewed while using the ArtistScope Web Browser and thus most securely protected from all copy and save techniques imaginable. An ASPS Protected Site enables you to:
Display a mirrored section of your home site (or the whole site).
Upload and display protected PDF, Flash and video.
From your author control Panel you have total control over all aspects governing users, groups, media and pages.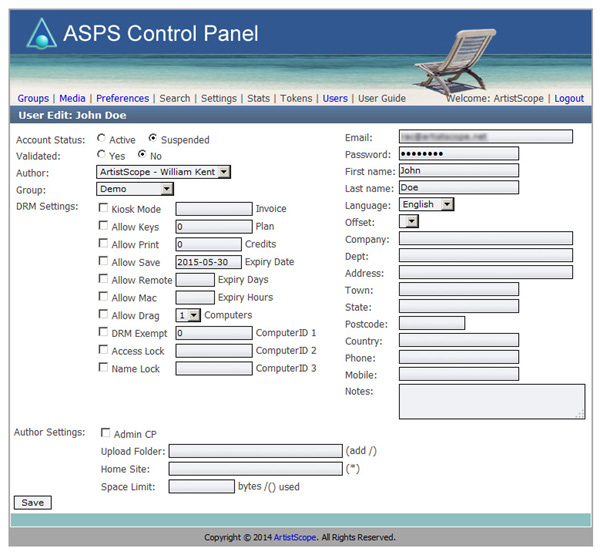 Click for more info on ASPS Protected Hosting.
ASPS Server Software
First, you need to have a website that uses a domain name or domain alias on a network that is accessible from either the Internet or an Intranet. The next requirement is for you to have Administrator permissions on the server, or a congenial web host, to be able to install and register the ASPS filter. If you don't already have a server where you have Admin rights, then ArtistScope may be able to provide hosting to you or recommend other suitable web hosts elsewhere.
To use ASPS, the filter software needs to be installed on the server for your website. Filters are available for Apache and Windows servers, like ISAPI filters on Windows Server 2003. On Windows Server 2008 and 2012, it is a .net application and for Apache it's similar to a Mod. Sites that are enabled to use the filter are required to hold a license file in the site root. The license file also provides information to be displayed as branding for the ArtistScope Web Browser. In a nutshell, the installation of the server-side filter is as simple as installing the filter and copying the license file to the appropriate website. Nothing else is required as the filter is then controlled by a meta tag that is added to pages to be protected.
Click for more info on the
ASPS Server Software
.